About Stretch Marks
Product Reviews
Stretch Mark News
Featured products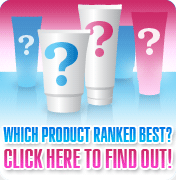 .

.
Like the product Trilastin, Elastin 3 contains the proteins elastin, collagen and soy. This means that it can be effective in moisturizing the skin and potentially minimizing new stretch marks.
It also provides the AH3 Amino Peptide (trade name, Argireline), which is said to reduce surface muscle contractions to diminish the depth and length of stretch marks and wrinkles.
Manufacturers also claim that Elastin 3 is great for new moms and women at any stage of life who want to prevent or ease the appearance of severe stretch marks. Elastin 3 is good for all skin types.
Elastin 3: Company Info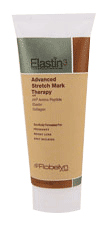 Started in June of 2005 and based in New Jersey, Robelyn Labs. LLC became Robelyn Labs Inc in August 2005. Elastin 3 was not tested on animals.
Elastin 3: Directions For Use
To apply Elastin 3, cleanse and dry the skin then apply generously and massage vigorously in an upward motion. Manufacturers advise using the lotion three times a day, but caution nursing mothers not to use it anywhere a breast fed infant might suckle.
Price
Regularly priced $79.95 you can get the cream for roughly $69.95 if you shop around. http://www.robelynlabs.com/
Editors Choice
See which product is our choice for Best Stretch Mark Cream
Elastin 3: Ingredients
Active ingredients: AH3 Amino peptide (Argireline), soy protein, hydrolyzed elastin and collagen.
The most intriguing ingredient here is the AH3 amino peptide Acetyl Hexapeptide, trade name Argireline. The claim is that it stops the signal protein (catecholamine) from connecting to the cell, which in turn inhibits surface muscles from contracting, allowing the natural synthesis of collagen and elastin to penetrate deep into the middle layer of the skin.
Inactive ingredients: De-mineralized spring water, vegetable oil, glycerine, stearic acid, cetyl alcohol, myristyl stearate, glyceryl monostearate, acetyl hexapeptide 3, soluble , , methylparaben, propylparaben, triethanolamine, microcrystalline cellulose, octyl methoxycinnamate, imidazolidinyl urea, simethicone, essential oil of white flowers.