About Stretch Marks
Product Reviews
Stretch Mark News
Featured products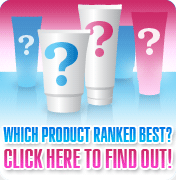 .
Stretta Stretch Mark Removal Formula

.
Zenmed's Stretta Stretch Mark Removal Formula takes a three-step approach to stretch mark eradication, mimicking procedures used in spas.
How Stretta Stretch Mark Removal Works
The first step is a glycolic peel, which exfoliates and removes dead skin cells. The next step is repair via Centillica Asiatica, which increases Collagen. The third and final step is the restorative process, which utilizes certified organic Aloe Vera, Vitamin E and Witch Hazel.
Peels have long been known to help improve the appearance of the skin, so, theoretically, this approach could very well aid in cellular renewal and stretch mark removal.
Stretta Stretch Mark Removal Ingredients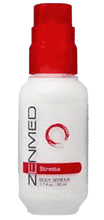 Purified Water, Glycolic Acid, Octyl Palmitate, Sunflower Oil (Certified Organic), Vegetable Glycerin, Witch Hazel, Cetyl Alcohol, TEA Stearate, Glyceryl Stearate, Vitamin E, Dimethicone, Cocoa Butter, Allantoin, Aloe Vera Gel (Certified Organic), Centillica Asiatica, Panthenol, Magnesium Aluminum Silicate, Methyl & Propyl Paraben, Diazolidinyl Urea, Lavender Essential Oil, Ylang Ylang Essential Oil, Lime Essential Oil, Lemon Essential Oil
Stretta Stretch Mark Removal Directions For Use
After bath or shower wait one minute and apply a small amount onto hand and rub into affected areas twice daily. If irritation occurs, use only once a day. Results normally appear after 6-8 weeks of consistent use. It is highly recommended that a SPF 15 or above should be used if exposing skin to sun.
Do not use on the face or neck and keep away from the eyes.
Editors Choice
See which product is our choice for Best Stretch Mark Cream!