About Stretch Marks
Product Reviews
Stretch Mark News
Featured products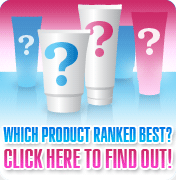 .

.
Stripeptin is a cream that can be used to reduce the appearance of scars, cellulite and stretch marks, in fact, the website says that you can actually "erase" stretch marks in 30 days.
Since 90 percent of pregnant women do develop stretch marks, this may be a tempting cream to try out. The only barrier may be its high costs, which, so far, places Stripeptin ahead of the others in the expense department.
Stripeptin: Company Info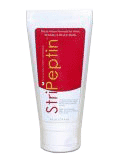 Nutritional Science Laboratories, the manufacturers of Stripeptin, was founded in 1990 in Naples, Florida. They do provide a direct customer service phone number as well as easy access to refund information.
Stripeptin: Directions For Use
The creams manufacturers advise users to perform a skin test by applying a small amount to the inside forearm to make sure you are not sensitive to their ingredients. If no reaction occurs, use twice daily - in the morning, and before bedtime - on clean dry skin. Use sparingly and apply in a circular motion until fully absorbed.
Price
The supposed 25 day free trial ends with a two month billing of $95.00 to your credit card. One tube, which sells at $150.00 usually, is currently $95 dollars. You an also buy two and get one free at $190.00 and buy three and get one free at $285.00. Stripeptin appears to be having some trademark issues and there is no official website at this time.
Stripeptin: Pros
You can buy the product in bulk at reduced prices
Stripeptin: Cons
Very expensive
Found quite a few dissatisfied customers online
May cause reactions and rashes
June 10 update - the official website has ceased to exist!
Editors Choice
See which product is our choice for Best Stretch Mark Cream!
Stripeptin: Ingredients
Active ingredients: Dimethylaminoethanol (DMAE) and Fat-Destroying Agents called beta-adrenergic stimulators
Dimethylaminoethanol (DMAE) has been praised by many for its ability to boost sagging skin and improve the texture and firmness of skin. It actually causes change at the cellular level, improving skin's texture and thickness.3
Fat destroying agents is reported to cause lipolysis (fat reduction) to occur. Manufacturers claim that this is caused in part by chemicals called >beta-adrenergic stimulators which can reduce body fat making cellulite and stretch marks less obvious.
Inactive ingredients: could not be located.